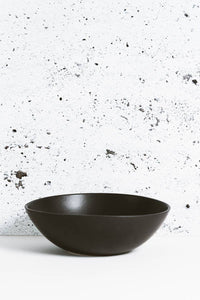 Sourced from the Cap Bon peninsula in Tunisia, our enameled stoneware starts its life as pure, mineral-rich clay fed by the azure depths of the Mediterranean sea.
Fired at heat exceeding 1200°C, the resulting stoneware is naturally heat and shatter resistant, microwave safe, dishwasher safe and  free of toxic heavy metals. 
As each piece is crafted by hand by fair-trade artisans, marks and slight variations,  such as a small finger print on the base or the imprint of the grid of the kiln, are to be expected.
Measures approximately 11.8" D.
Care notes: 
Quick and extreme changes in temperature could cause thermal shock, causing your stoneware to crack. Do not preheat stoneware, or place wet stoneware in the oven. Do not place dense, frozen food items on stoneware, or place hot stoneware directly on a cold surface. Use a trivet or a towel between surfaces of extreme temperature.
The use of sharp utensils may leave slight scratches, especially on a matte finish. To remove them, rub your dishes using a moistened scrubber with baking soda, cream of tartar, or a scouring powder such as Bar Keepers Friend.