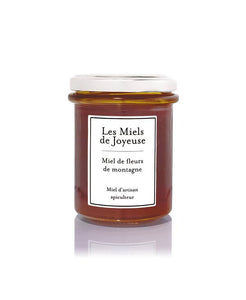 With apiaries clustered around the small town of Joyeuse, the artisan honeys of Les Miels de Joyeuse hail from the Ardèche-Cévennes region of France. Harvest areas are chosen for their exceptional biodiversity, and absence of intensive cultivation, allowing pure and distinctive flavors to come through in each honey variety.

Balanced and creamy with a slight hint of bitterness, the mountain flower honey is harvested high in the Monts d'Ardèche, France. 
Net weight: 250 g / 9.82 ounces.