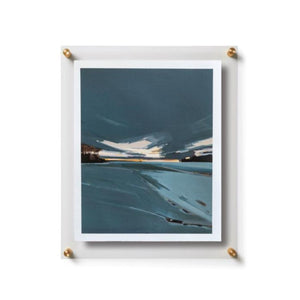 Elevate even the simplest work on paper or canvas with this modern Lucite frame.
Two sheets of clear, diamond-polished acrylic "sandwich" the art to create a borderless frame; the two-piece gold hardware mounts to the wall and can be easily unscrewed in order to swap the work on display.
15" x 18" frame is ideal for works measuring 11" x 14", or for a roomier presentation of a smaller piece.  Frames can be hung vertically or horizontally.