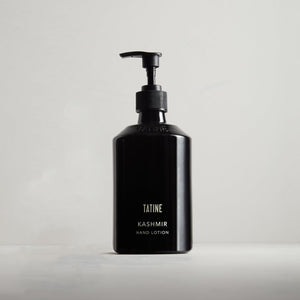 Indulge the senses with a ceremony of luxurious fragrance infused into a creamy lotion.
Inspired by the sexy Led Zeppelin riff, Kashmir is a fragrant blend of ethically harvested sandalwood oil, white incense, and dry woody amber oil. Cardamom and saffron tea notes anchor creamy, soft balsams, spices and warm scents of the ancient Eastern World. Drops of exquisite magnolia flower, vanillin and musk rest in the base to create a powdery haze. Total aphrodisiac.
Formulated without parabens or sulfates in a sterile lab using solar-powered energy.  
13.5 fl. oz. black glass bottle.