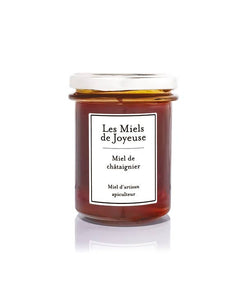 With apiaries clustered around the small town of Joyeuse, the artisan honeys of Les Miels de Joyeuse hail from the Ardèche-Cévennes region of France. Harvest areas are chosen for their exceptional biodiversity, and absence of intensive cultivation, allowing pure and distinctive flavors to come through in each honey variety.

With a woody taste and amber color, this chestnut honey is rich and full of aroma, making it a favorite for cooking in the Ardèche.
Net weight: 250 g / 9.82 ounces.