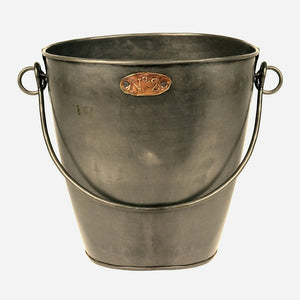 Inspired by old-fashioned French hotel ice pails, our magnum-sized Champagne bucket is an entertainer's must-have.
Use it for a single large bottle, two smaller bottles, or even as as a character-filled kindling bucket or wastebasket. 

Marked with an antique-style metal plaque, each lightweight bucket is made of iron with a patinated finish. Due to its vintage-style rivets and buffed color, each bucket is perfectly imperfect and one-of-a-kind.
Measures approximately 15" diameter.