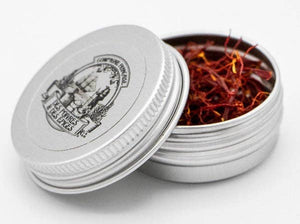 Prized for its delicate flavor and rich color, saffron is actually the pistil of a crocus flower native to the Eastern Mediterranean and Middle East.
High-quality saffrons are rare, as the harvest is all by hand and laborious. It takes around 150,000 flowers to produce 1 kilo of dry saffron. The harvest is only done for a few days, and the best saffron is allowed to dry naturally, enriching its flavor.
This variety carries notes of cedar, tobacco leaf, hay, subtle citrus, pepper, and fine mint, as well as floral aromas.
An essential ingredient in Risotto Milanese and Spanish paella, saffron is also excellent in fish stews and seafood-and-pasta dishes.
7ml / 0.5g / 0.017oz