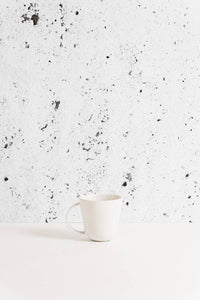 Sourced from the Cap Bon peninsula in Tunisia, our enameled stoneware starts its life as pure, mineral-rich clay fed by the azure depths of the Mediterranean sea.
Fired at heat exceeding 1200°C, the resulting stoneware is naturally heat and shatter resistant, microwave safe, dishwasher safe and  free of toxic heavy metals. 
As each piece is crafted by hand by fair-trade artisans, marks and slight variations,  such as a small finger print on the base or the imprint of the grid of the kiln, are to be expected.
10 oz.