Monroe on the Go: A Weekend in Palm Springs
Confession of a California-born shop owner in Boston: We know spring's just around the corner, but man, does March test our limits. The tease of 50-degree days followed by 10-degree wind chills; the gray skies stretching on for eternity. Unnnggggghhhhh.
This is why March is the perfect time to hop a flight out west, for a weekend fix that'll set us straight until the daffodils arrive. This year we did just that, heading to sunny Palm Springs and taking some of Monroe's warm-weather finds for a test run.
Scroll on to see how we brought our signature style to the desert and, if you decide to follow suit (maybe you're headed to Coachella?), get our picks for what to do on arrival.
Forecast: Not snow.
1. Pack with Purpose.
Our POV on packing: A stay in Palm Springs is all about the accessories. Dress code tends to be resort-casual out West, so spend your suitcase space on shade-giving hats, artsy jewelry, a few pairs of comfy sandals, and some rich nourishment for that sun-shy New England skin. We were sure to tote our packable new Luxe Resort Hat by Australian brand Lorna Murray, our "Reserved" beach towel, and the Earth clay mask—a perfect post-pool treatment for overexposed skin.
Poolside with our new packable hat.
2. Find a Stay with a Scene.
Speaking of pools, our favorite accommodations make sunbathing into a sport. The iconic Colony Palms Hotel brings all the vintage charm with its cabana-striped umbrellas, posh al fresco eatery, and wallpapered interiors—it's a can't-miss if you can manage to score a room. The Saguaro is another icon, with its colorful, Instagrammable exterior, bright yellow cabanas, and poolside daybeds. We stayed at a newer entrant to the hotel scene, Arrive, where we floated to the Saturday-afternoon poolside DJ, watched guests play ping-pong, and sipped coffee and cocktails by the toasty fire pits. Other resorts that earn raves: The bright and whimsical Parker, and newcomer Drift.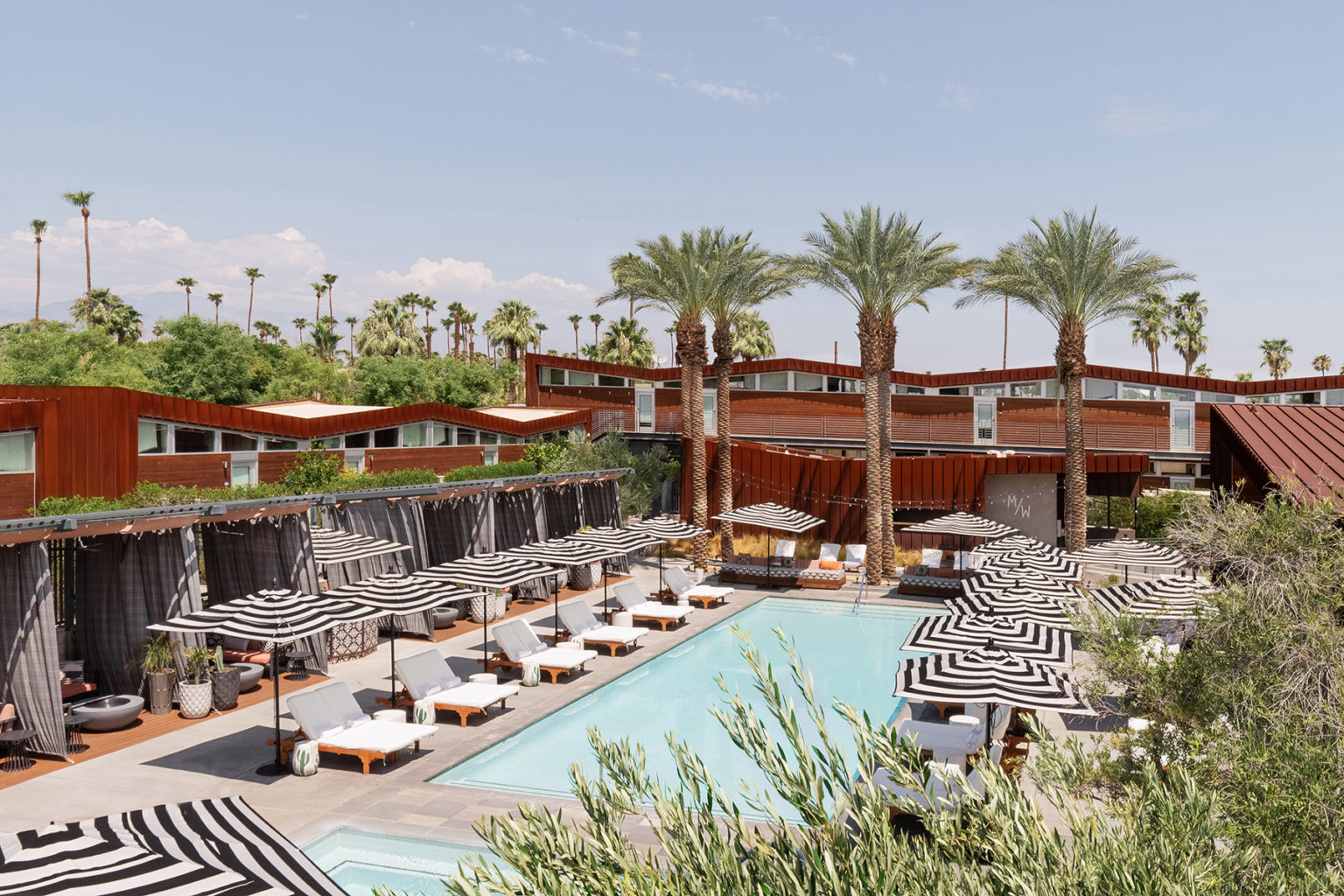 The pool at Arrive.
3. Take the Wheels.
Sure, you could head out for a hike, ramble through the desert on an ATV, or sweat it out on a horseback ride. Our brand of outdoorsing? Peeping local architecture from astride a cruiser with a bell. Some hotels, like Arrive, offer bikes to guests (we recommend reserving yours early), but you can also rent from a local bike shop.
Biking our way across town.
Zig-zagging through the hedge-lined streets of Old Las Palmas toward the busy shopping district feels a bit like being in Alice in Wonderland, Desert Edition. You'll spy great gardens full of cacti and succulents, and catch many of the midcentury homes' funky details, such as all-pink stucco, driveways bedecked with silver cherubs, and imposing doors with big, brassy hardware (a clear hint at the fun and excess within). Lock your ride near the giant Marilyn statue, and you'll be able to catch some fun art installations—we saw murals, graffiti art, a gigantic cake sculpture, and the fascinating
Fault Line Meditation
—
before making your requisite walk through the tourist area.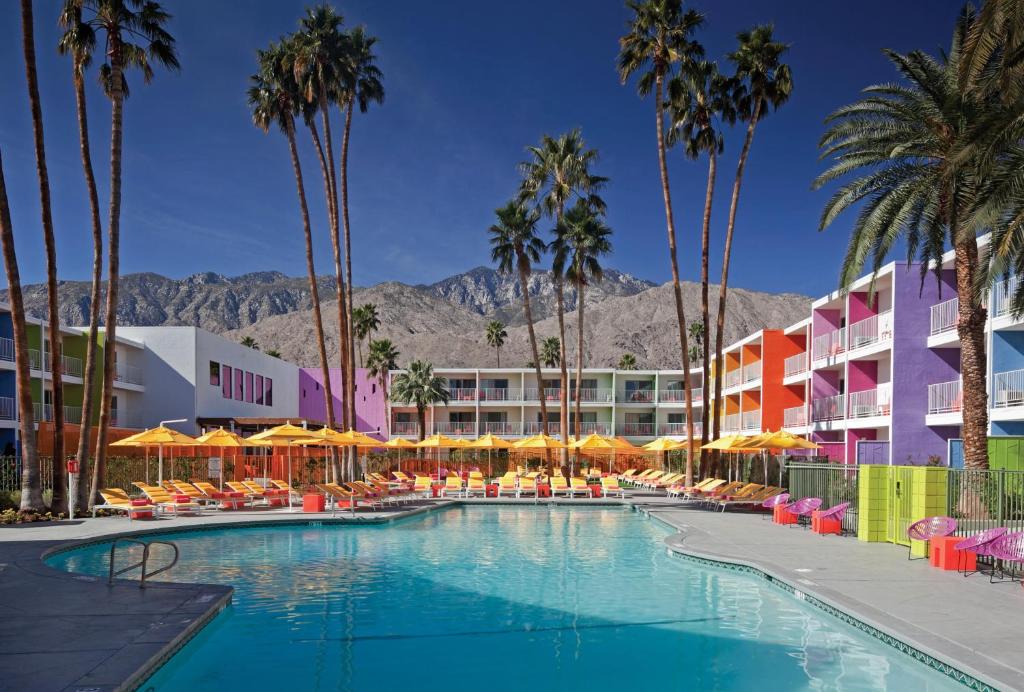 Color on display at the Saguaro.

4. Shop With Abandon.
As a longtime playground for Hollywood's elite, Palm Springs has some of the best vintage shopping you'll find anywhere. Standout retailers include Iconic Atomic for housewares and period menswear, along with dresses that look plucked from the Mad Men set, and the luxe Shops at 1345, a collection of boutiques in an E. Stewart Williams-designed building. We lost ourselves in M Designer Vintage, whose owner Monika is a former celebrity stylist in LA; her impeccable eye and decades of collected vintage make for an assortment that feels current, classic, and edgy all at the same time. 
Other local shopping gems include Thick as Thieves, a sweet and curated boutique full of books, decor, jewelry, tees, and California-made beauty finds, as well as Hits Studio, a hip vinyl-themed cannabis shop (and the perfect post-lunch, pre-pool pit stop). 
Curb appeal: Chic boutique Thick as Thieves.
5. Dine Like You Mean It
No Palm Springs trip is complete without some over-the-top dining. The hot tables are at Bar Cecil (hint: get there early and slide into the bar) and Le Vallauris, a Soho House eatery where guests clink glasses under the trees in an impossibly charming garden. For fans of Tiki cocktail culture, Bootlegger brings the Mai Tais and mixology. And in the morning? We got our A.M. fix of single-origin brews at the pint-sized cafe Cartel, adjacent to Arrive.
The garden at La Vallauris.
A Taste of the Trip
A few Monroe finds in keeping with the Palm Springs vibe. (Time to get shopping!)