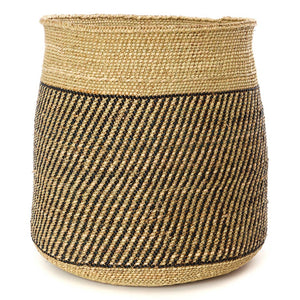 These simple yet durable baskets are hand woven by women in rural Tanzania. Accents of dyed black milulu grass add visual interest.  
Measures approximately 14-15" diameter x 13" high. Because this is a handcrafted item, measurements and shape will vary slightly from basket to basket.
If your basket loses its shape or becomes crushed, reshape it easily by wetting the straw and shaping the basket with your hands, then allowing it to dry.