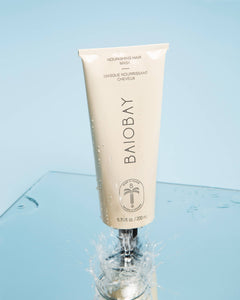 With a dreamy balm texture and rich with coconut and jojoba oils, this mask will nourish hair, give it shine, and make it soft to the touch while also making it easier to detangle.
Made with plast-based keratin and collagen, so it's vegan and cruelty-free.
How to use: After washing your hair, apply Baiobay's Nourishing Hair Mask to your lengths and tips, comb through, and wait 5 to 10 minutes before rinsing. It can also be used as a pre-shampoo mask on dry hair.